About the Artwork
All the winning stories from the 2021 Solarpunk Storytelling Showcase were illustrated by artists from across the world: Chile, South Korea, the UK, India, Brazil, the US, and Canada. Thank you to all the artists below for their incredibly generous contributions to this project and beautiful interpretations of the stories.
Rita Fei
Rita Fei is an illustrator based in Vancouver, BC, and who graduated from Emily Carr University of Art and Design. She loves creating characters and worlds for the wonderfully broad spectrum of speculative fiction, and had a piece published in Spectrum 26. She is currently working full-time as a designer at Bardel Entertainment, and occasionally as a freelancer for various projects. Her entry for the Solarpunk Atomhawk competition was chosen as the title image for this Showcase.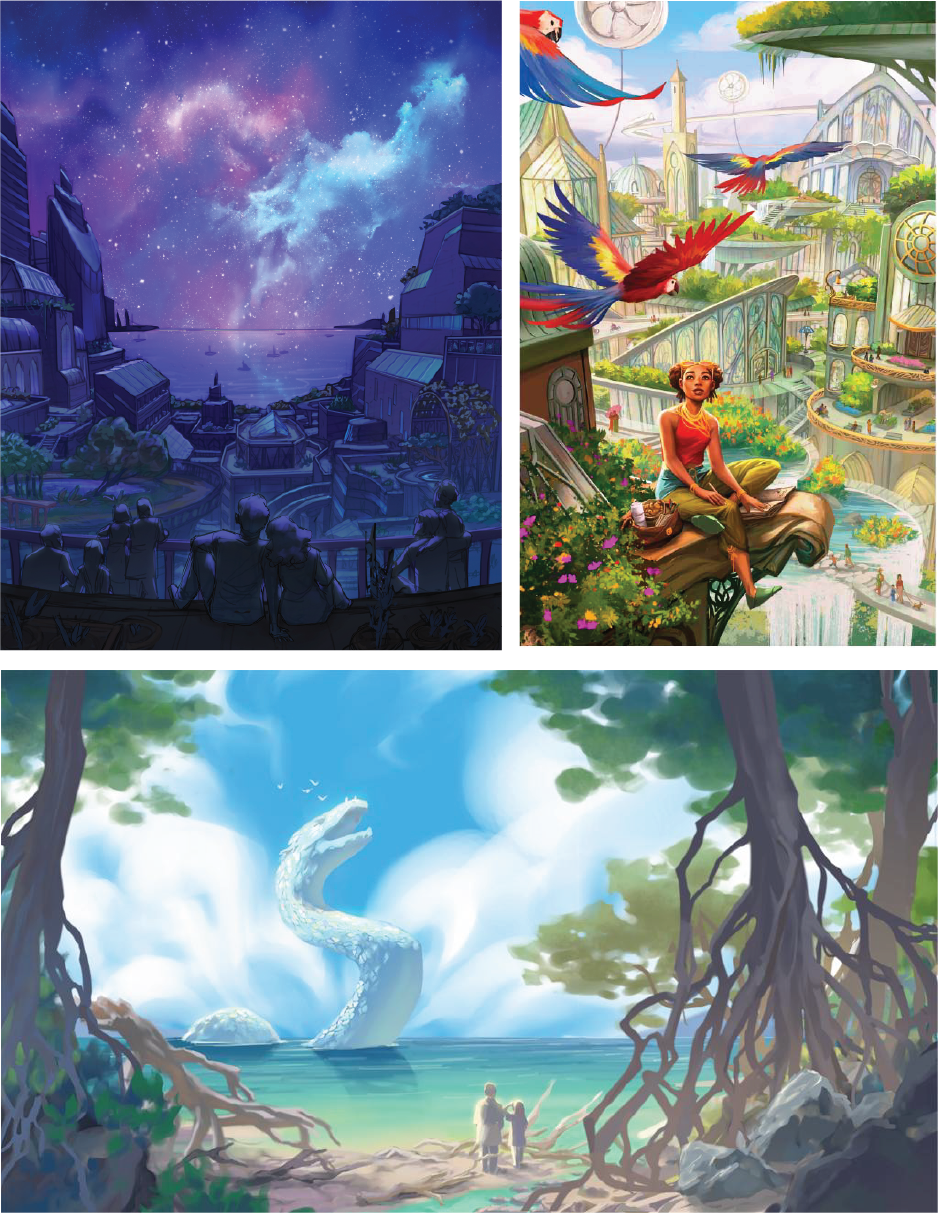 Rita illustrated City Starlight by Katrina Eilender and Gabby's First Kiss by Joe Tankersley.
Mori
Mori is a digital artist from a small city in Chile. After studying Illustration and Graphic Design in DuocUC, she's worked on several freelance projects: drawing characters for TV animations, illustrations for books and websites, t-shirt designs, prints, and posters. She's also collaborated with several artists and participated in local Illustration fairs. Nowadays she is focused on creating new merch with the Dream.Mori signature. Mori is inspired by dreams, the unconscious and intrusive thoughts, which she combines to create evocative sensations through a digital canvas. Her favourite hobby is sculpting dolls with air-dry clay.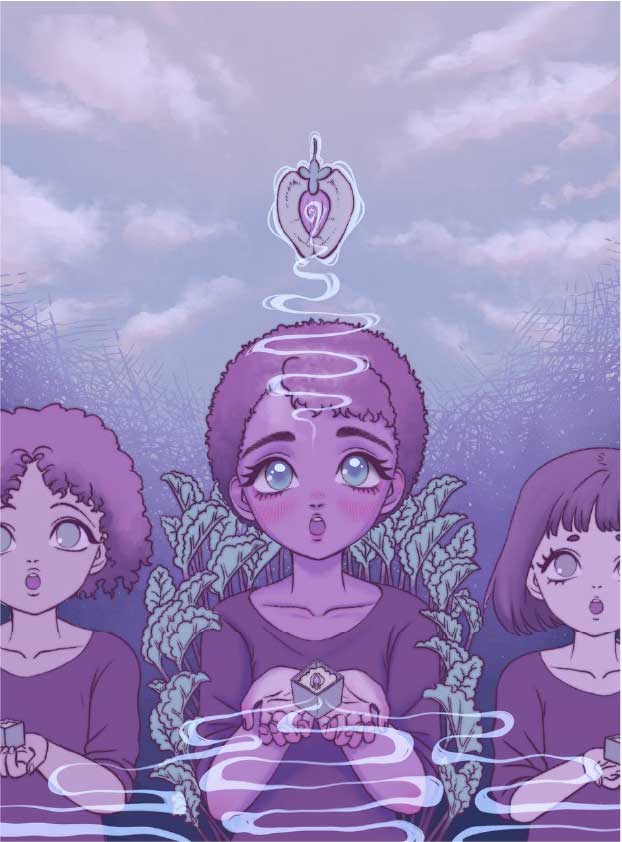 Mori illustrated The Singer of Seeds by Leda Baöl.
João Queiroz
João Queiroz is a Brazilian digital artist born in the Amazonian state of Rondônia. His work focuses on science fiction, especially in the Solarpunk and Cyberpunk genres. In 2019, he created a project named Amazofuturism, an ongoing series of illustrations that mixes Solarpunk and cyberpunk aesthetics with Brazilian Indigenous peoples' cultures, making its own brand Indigenous Futurism. He hopes to continue to help build a greener future through art. You can find him on Instagram and Twitter at @q1r0z.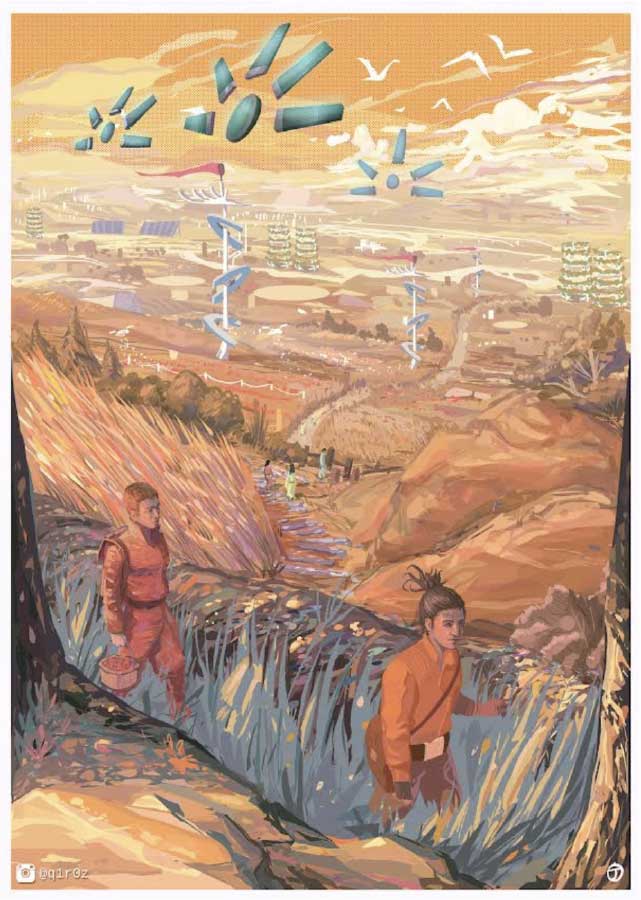 João illustrated Blood Oil by Rebecca Spring.
Good Wives and Warriors
Becky Bolton and Louise Chappell have been working collaboratively as Good Wives and Warriors since 2007, soon after graduating from the Painting Department at The Glasgow School of Art. They divide their time between designing large-scale installations for fine art settings and undertaking illustrations commissions from a diverse range of companies worldwide, including The BBC, Penguin, Facebook, Absolut , Adidas and Swatch. They have exhibited around the world, including shows in London, Berlin, Paris, Melbourne, Buenos Aires, San Francisco and Sao Paulo, and are currently based in London.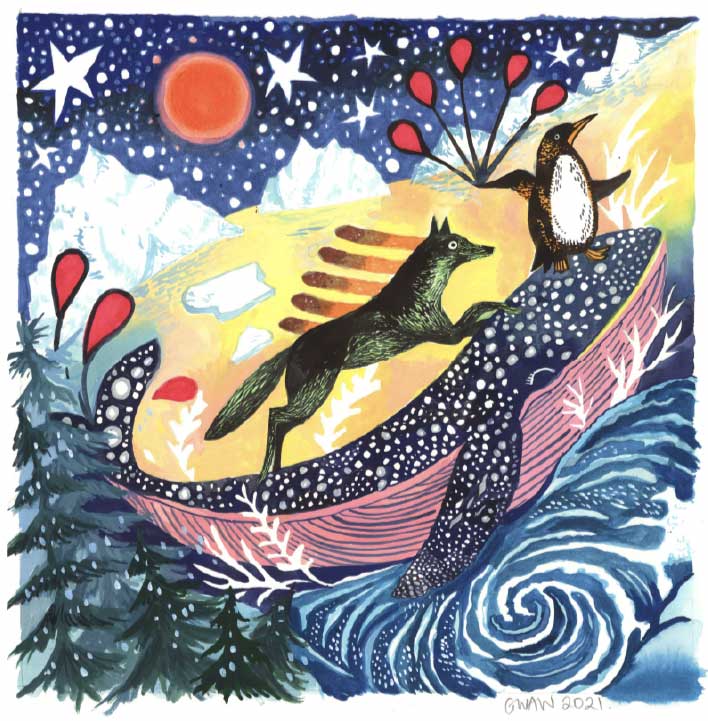 Good Wives and Warriors illustrated The Happy Wolf by Mikhayel Malouf.
Hal Hefner
Hal Hefner is an illustrator, pop artist and writer based in Los Angeles, CA who has created art for digital publications, books, movies, games, animation, TV, streaming series, advertising, and much more. He is known worldwide for his Pop Art series, CONSUME, inspired by John Carpenter's cult classic film, They Live. He is also the writer and creator of Heavy Metal Magazine's first webcomic, Gates. Hal is currently in production on a massive multimedia Solarpunk project called the Serpentseed, which combines elements of sci-fi and real world activism designed to evoke action and awareness for climate change.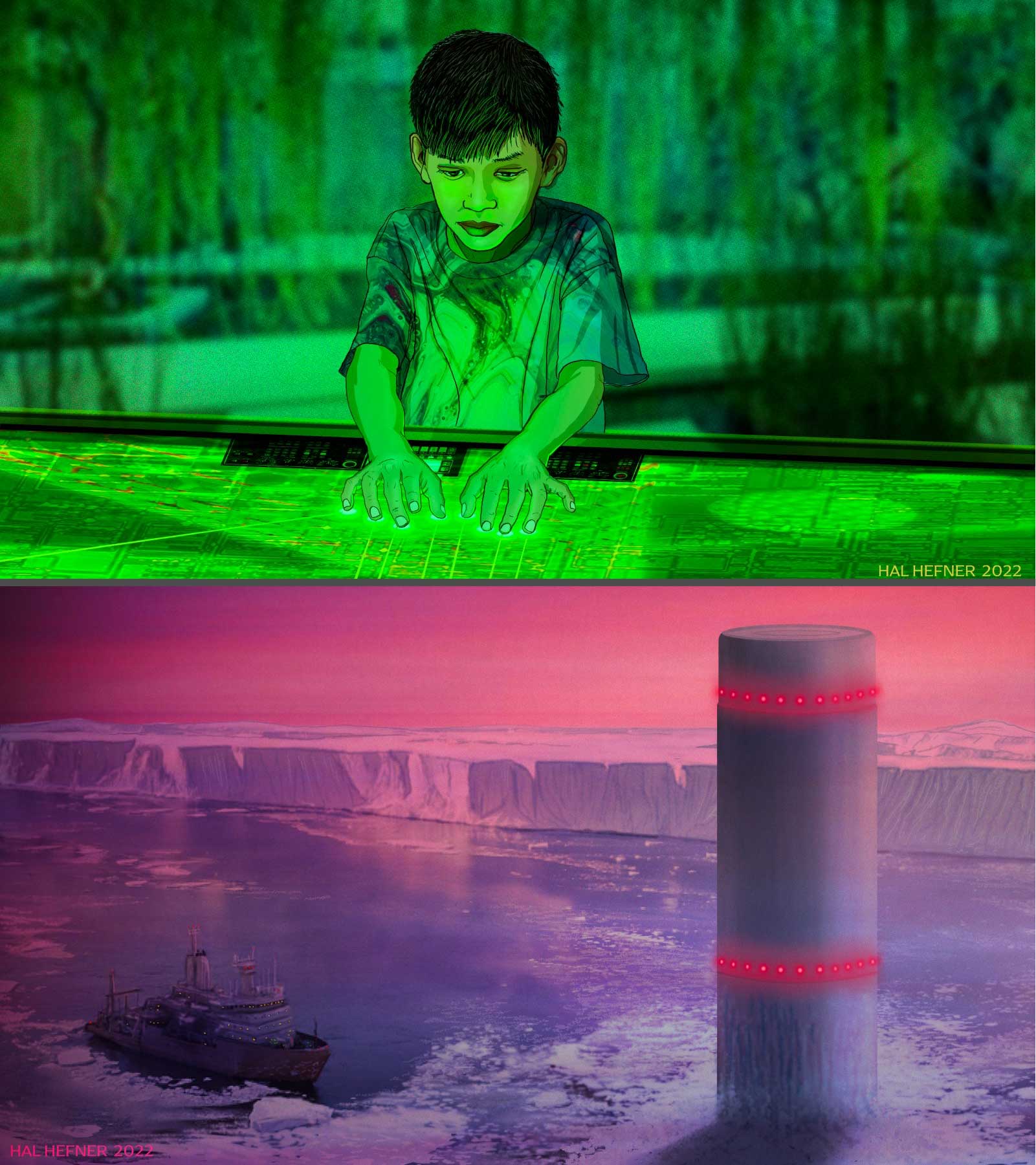 Hal illustrated The Future School by Liz Liu and Dylan Cooler by Dylan Liu.
Dustin Jacobus
Dustin Jacobus is a Belgian illustrator, industrial design engineer, and a learning & development expert, with special interests in biomimicry, sustainable design, and futurism. He started his career as a technical illustrator and 3D CAD designer. After he finished his futurism research project 'Universitas', he continued doing artistic research about different Solarpunk topics. His work has appeared in several international publications such as 'Solarpunk, design ed estetica industriale', a technical book about Solarpunk, written by Eric Hunting and published in Italy by Future Fiction.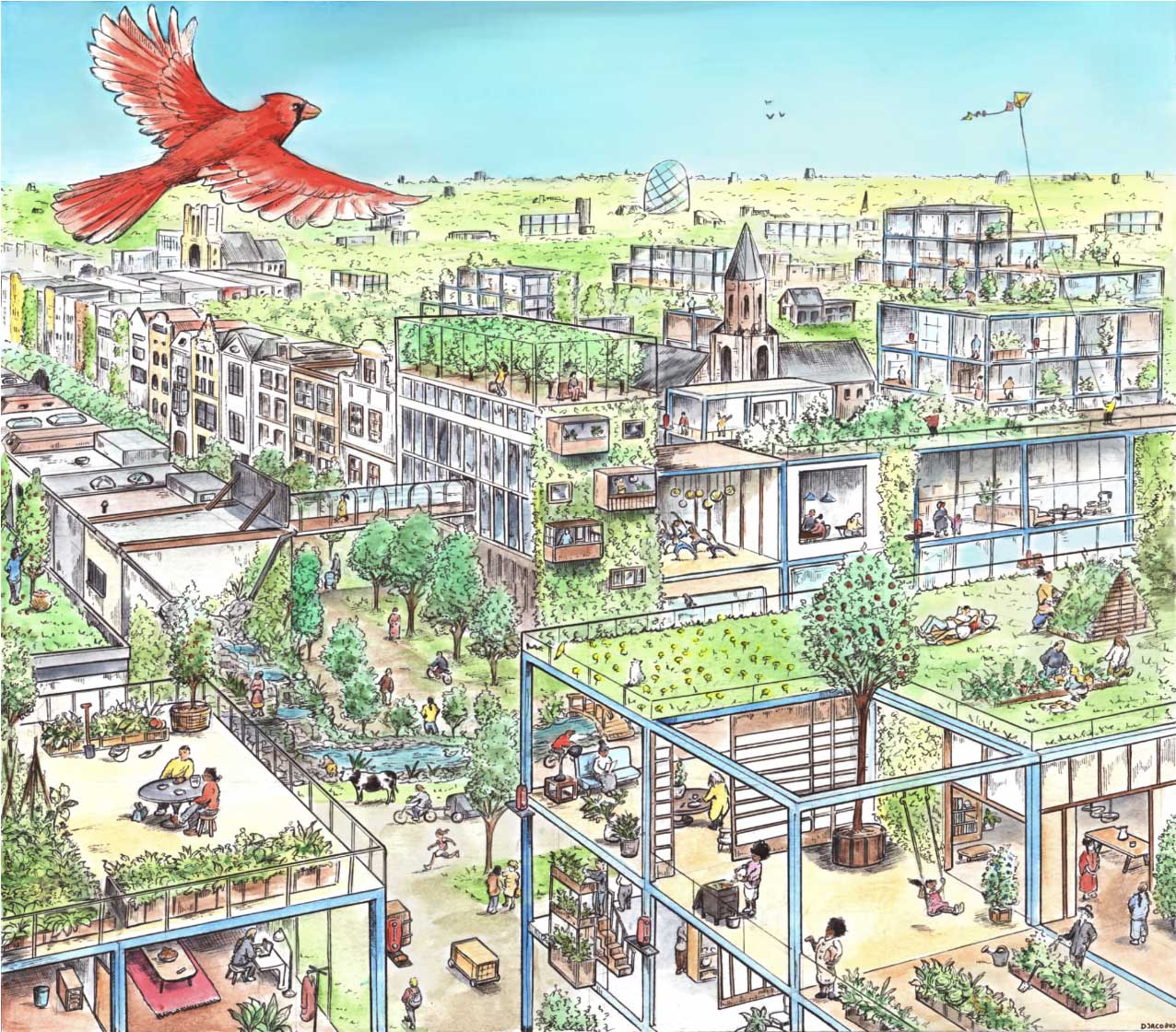 Dustin illustrated The Old Man and the Bird by Aël Magnard and The Tides Rolled In by Christopher Muscato.
Floating Village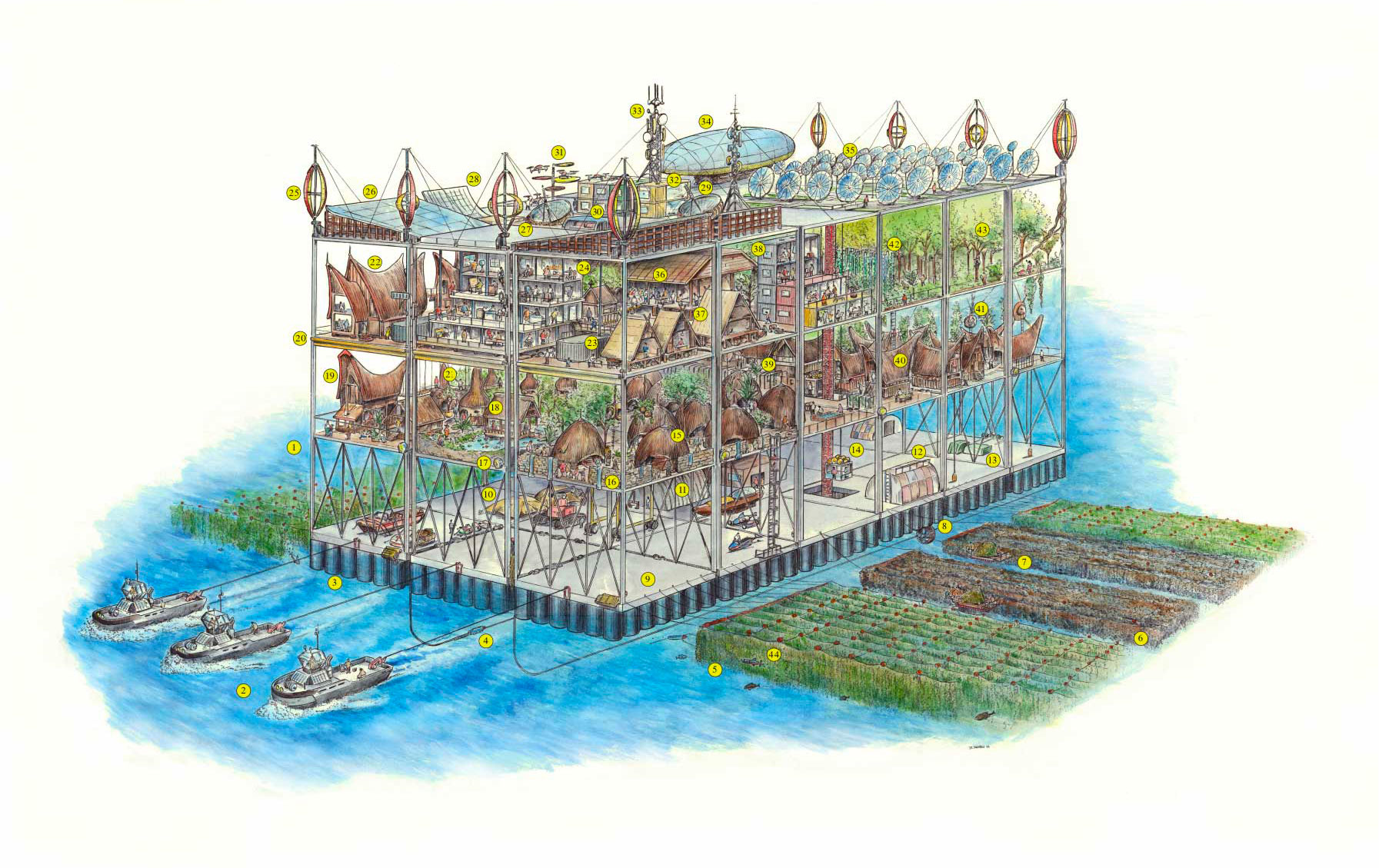 1 Modular approach: The entire floating village consists of multiple smaller floating units. They are connected to each other. Each unit can be constructed separately and adapted depending on the needs. Each platform can count several levels. The modular approach makes it possible for the village to expand incrementally.
2 Tug boats: Used to tow and push the platform village. They ease maneuvering operations.
3 PSP platform: Pneumatically Stabilized Platforms
4 Monorail for maritime robots: the robot can clip onto the rail and it can transport its load (mostly sea food) to the higher decks.
5 Seaweed, Kelp mariculture
6 Mussel socks
7 Small vessels used to harvest the food
8 Electric Azimuth thruster: they have a variable pitch, the angle can be changed. They are used to propel the platform and for active station-keeping.
9 Lower deck: This deck is not used for residential purposes. The deck can be overflown by (higher) incoming waves. Some equipment and technical rooms can be found here. Everything here can be anchored to the deck and can be protected against sea water. The deck can be used to deliver and ship goods.
10 Heavy equipment can be attached to the deck plate and protected with seawater proof materials. (repair parts, machines, jet skis, lifeboats, speedboats, catamarans, marine construction cranes, gantry cranes…)
11 Technical rooms, workshops, storage
12 Technical room for the drive motor from the azimuth thruster. Designed with recycled plates from ship hulls.
13 Back-up anchor and anchor chain, used in shallow waters.
14 Elevator: it can go to just underneath sea level
15 Mbaru Niang houses
16 Protective wall
17 Searchlight
18 Fresh water pond
19 Rumah Adat, vernacular Indonesian architecture
20 Protective shield: it can be lowered down to protect the 1st residential level against bad weather
21 Sumba houses and hanging bridges
22 Town hall
23 Drinking-water reservoir
24 Platform control building: wheelhouse, chart room, radio and telecommunication room. The terraced structure is build with the Utilihab construction kit.
25 Windmills with flexible, inflated blades that can adjust their profile to the force of the wind
26 Solar panels + rain water collector
27 Primary rainwater collecting / reservoir system
28 Secondary rainwater collecting / reservoir system
29 Solar concentrator, connected to the community kitchen
30 Electricity generators
31 Drone station
32 Technical rooms for all the roof installations, made with repurposed cargo shipping containers
33 Telecom tower, radar scanners, radio mast
34 Airship & airship landing area
35 Foldable "sunflower" solar-panel field, attached on an open roof (so the rain can come through)
36 Community kitchen
37 Uma Lengge A-frame houses
38 Computer rooms
39 Drying kelp / seaweed.
40 Batak Toba house deck
41 Hanging pods
42 Vertical tubes used to grow crops
43 Food forest
44 AUV: autonomous underwater vehicle, used to monitor seaweed / kelp
Nico Lob
Nico Lob is a South Korea-based Chilean artist who has professionally explored a variety of digital artistic means such as audiovisual, illustration, and editorial. Her unusual art is often appreciated as a balance of oddity and cuteness. Captivated since childhood by fantastic worlds of western cartoons and Asian animation, Nico started out as a graphic designer but has recently started to dabble in the character design field. She is currently exploring digital drawing and storytelling, and aspires to develop characters for the game/animation industry.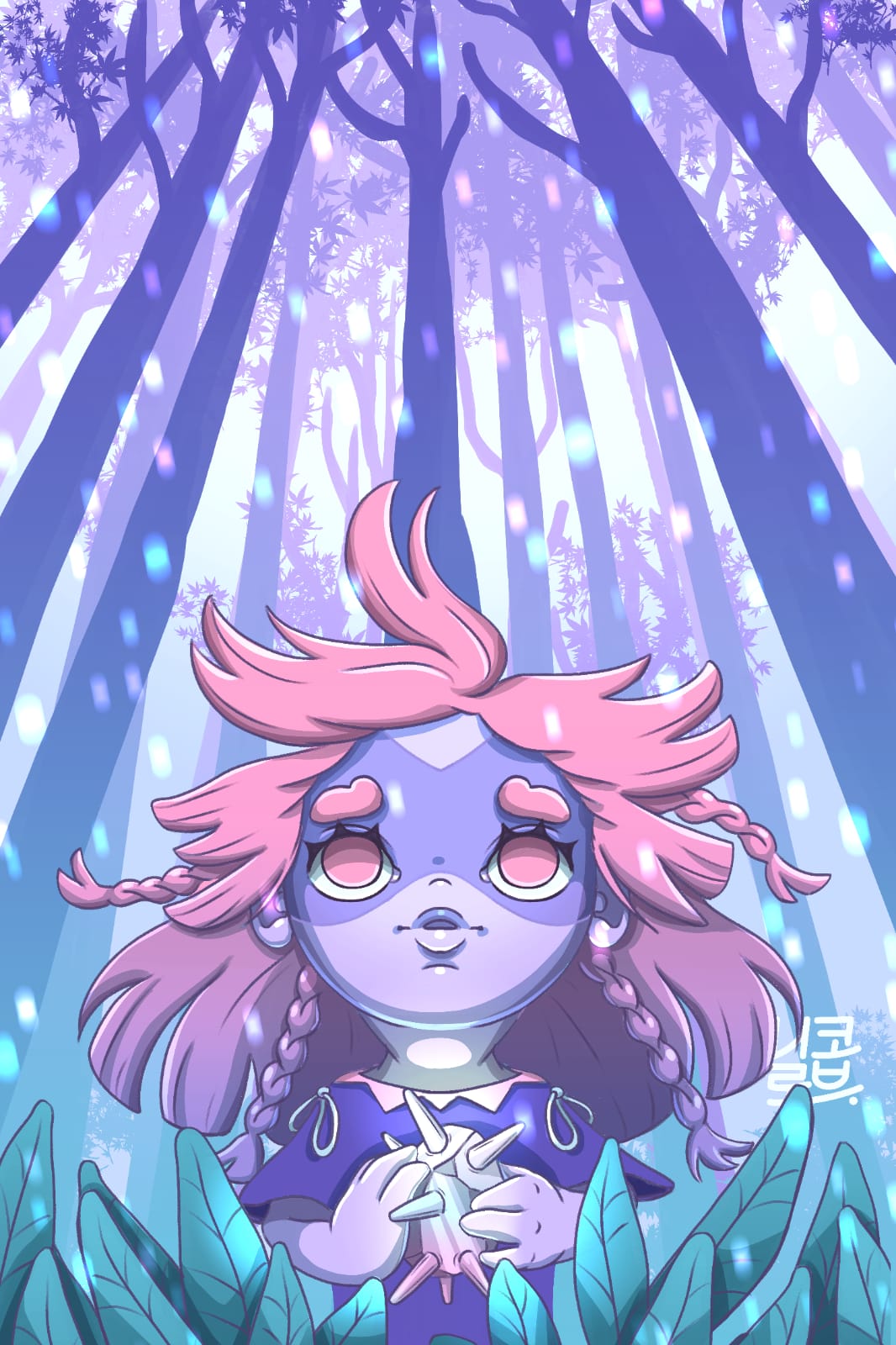 Nico illustrated Where Giants Will Stand by Spencer R. Scott.
Nikunj Bhimsaria
Nikunj is an aspiring graphics designer based in Mumbai, India. While he studied engineering in college, he has always enjoyed bringing characters and worlds to life through art. Recently, he has shifted to the digital medium and is trying to combine his passion for art with his desire to tackle climate change. While working full-time in climate philanthropy, he moonlights as a freelancer for various projects.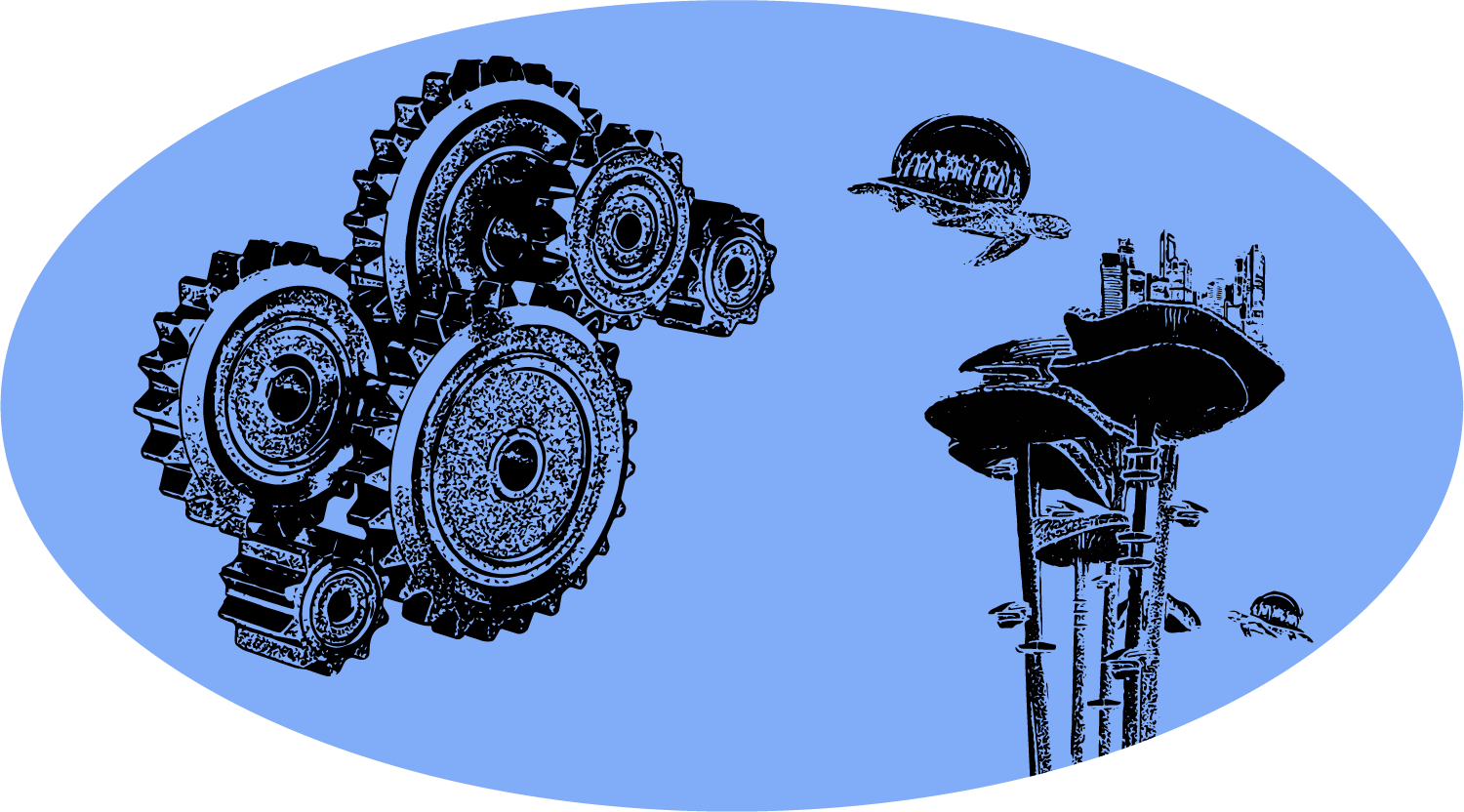 Nikunj designed the XR Wordsmiths logo and various graphics for the Showcase.